Poetry reading/video performance
100 performances for the hole
SOMArts Cultural Center, San Francisco, March 6th, 2010
Tribute to a Japanese poet, Kanji Miyazawa.
The performance
Etani's face was painted in orange and after a brief act he stuck hisy face onto a hole cut out on the plywood covering the mechanics pit on the gallery floor. When he turn on the lights installed in the pit the image from the video camera inside of the pit was revealed on the projection on the wall. The sun and the sky was painted underside of the plywood and Etani's face became the sun. He read a poem written on a plexiglas sheet installed in front of the video camera in the hole.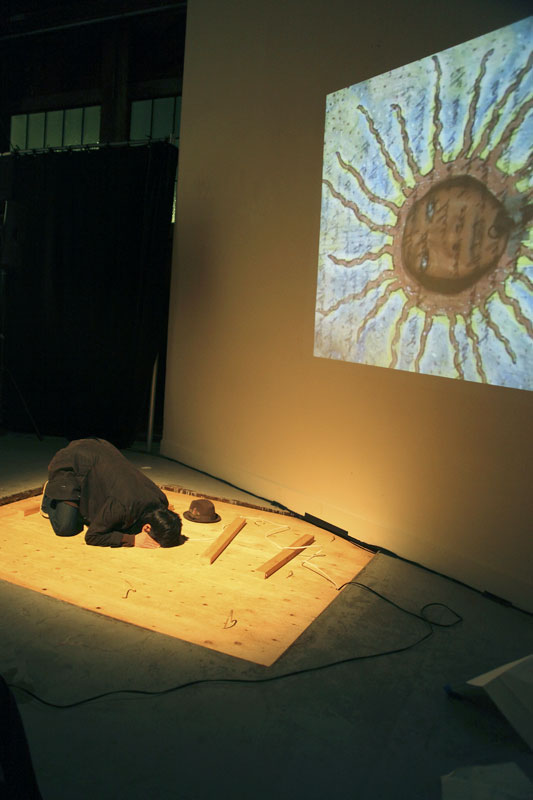 The Poem
"Spring and Asura (mental sketch modified)"
Out of the grey steel of imagination
Akebi vines entwine he clouds,
Wildrose bush, humus marsh
Everywhere, everywhere, such design of arrogance
(when more busily than noon woodwind music
amber fragments pour down)
how bitter, how blue is the anger!
At the bottom of the light in April's atmospheric strata,
Spitting, gnashing, pacing back and forth,
I am Asura incarnate
(the landscape sways in my tears)
Shattered clouds to the limit of visibility
In heaven's sea of splendor
Sacred crystalline winds sweep
Spring's row of Zypressen
Absorbs either, black,
At its dark feet
The snow ridge of Tien Shan glitters
(waves of heat haze & white polarization)
Yet the True Words are lost
the clouds, torn, fly through the sky,
Ah, at the bottom of the brilliant April,
Gnashing, burning, going back and forth,
I am Asura incarnate
(chalcedonous clouds flow,
where does he sing, that spring bird?)
The sun shimmers blue,
Asura and forest, one music,
And from heaven's bowl that caves in and dazzles,
Throngs of trees like calamities extend,
Branches sadly proliferating
All landscapes twofold
Treetops faint, and from them
A crow flashes up
(when the atmospheric strata become clearer
& cypresses, hushed, rise in heaven)
Someone coming through the gold of grassland,
Someone casually assuming a human form,
In rags & looking at me, a farmer,
Does he really see me?
At the bottom of the sea of blinding atmospheric strata
(the sorrow blue blue and deep)
Zypressen sway gently,
The bird severs the blue sky again
(the True Words are not here,
Asura's tears fall on the earth)
As I breath the sky anew
Lungs contract faintly white
(body, scatter in the dust of the sky)
The top of a ginkgo tree glitters again
The Zypressen darker
Sparks of the clouds pour down.
Kanji Miyazawa, 4/8/1922
Translation: Hiroaki Sato